About: Mila Chilikova-Lubomirova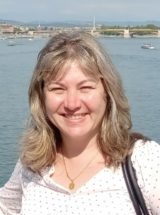 Email :
Web page :
Institution :
Institute of Mechanics - Bulgarian Academy of Sciences
Type of activity :
Research/education
Themes of expertise :
river systems, floods, droughts, river monitoring, hydrology, water management
Biography :
Assoc. Prof. Dr. Mila Chilikova-Lubomirova is a hydro-engineer with a 20 year experience in the field of Water issues - water management, hydrology, hydraulics, river extremes, climate impacts on water resources, water and environmental monitoring and management. Her main activities are connected to research and practice oriented projects on local, National and International level. Has excellent knowledge in water management policies and practices with special regard to WFD, RBMPs and FRMPs, practice with hydrological extremes – floods and droughts, ecological flow.